Otitis externa is inflammation of the outer ear canal. What is the cause?There are many primary causes of otitis externa including :* Allergies* Atopy - one of the commonest causes of otitis externa* Food hypersensitivity (80% of affected cats and dogs reported to have otitis) * Contact hypersensitivity* Autoimmune disorders* Pemphigus foliaceous* Diseases of glands in the skin* Hyperplasia of glands reported in Cocker Spaniels* Foreign objects in the ear canal* Grass awns* Excessive hair* Sand, soil, water* Fungi* Dermatophytes * Generalised diseases of keratinisation* Primary idiopathic seborrhoea* Hormonal disorders - hypothyroidism, sex hormone imbalances* Parasites* Ear mites (eg otodectes...
---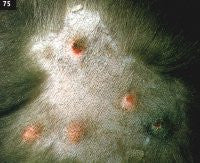 Panniculitis is inflammation of fat under the skin. It results in small inflamed nodules appearing on the surface of the skin. What is the Cause? There are many possible causes including :*  Post-injection *  Trauma*  Local impairment of blood supply (ischaemia)*  Immune disorders*  Bacterial or fungal infections - may be secondary invaders*  Idiopathic - sterile panniculitis What Breeds does it commonly affect? Dachshunds are more often affected than other breeds. Sterile pedal panniculitis is reported to occur in German Shepherd Dogs. There is no age or sex predisposition.What are the signs? Reddened (erythematous), firm, painful nodules in the skin. Usually...
---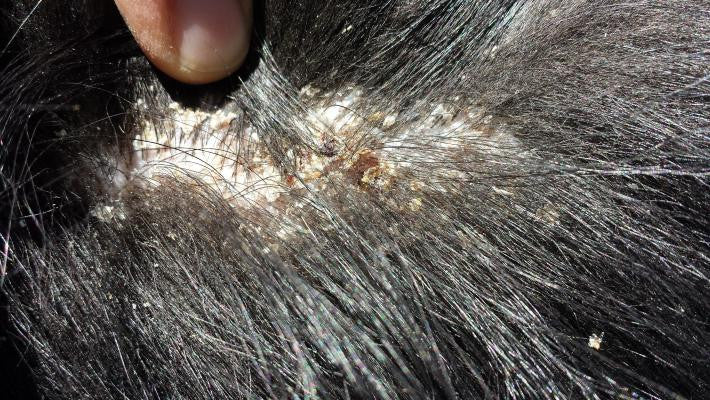 Seborrhoea is a chronic skin disease that is characterized by excessive scale production and greasiness.    What causes Seborrhoea? The cause is unknown, but affected dogs have accelerated basal cell turnover (keratinocytes).  What breeds commonly suffer from Seborrhoea? Idiopathic Seborrhoea occurs in two types  Primary Seborrhoea is an inherited disorder and is seen in several breeds of dogs including: Basset Hounds Cocker Spaniels Dachshunds Doberman Pinschers  German Shepherd Dogs Irish Setters Labrador Retrievers  Poodles Shar Peis Springer Spaniels  West Highland Terriers      2.  Secondary Seborrhoea occurs secondary to almost any other skin disease and can occur in any dog....
---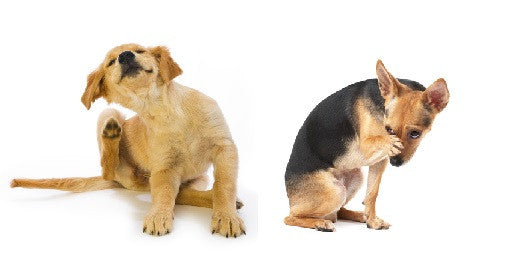 You may think you don't know what a yeast infection in dogs looks like, but if you have an itchy dog, especially the ears and paws, then you may be looking at exactly that.   Yeast! How Yeast Affects your dog Yeast is a fungus that likes to grow in moist areas.  Summertime and tropical areas  usually causes flare ups because of the hot and humid weather.  If you notice your dog itching, licking, scooting, and paw chewing, your dog could have an over growth of Malassezia.  Malassezia is the most common type of yeast that is found on a dog's skin and...
---
Podogermatitis affects the skin webs between the toes and between the foot pads.  It's a general terms for several different skin disorders.  It will result in redness, inflammation, swelling, and sometimes discharging sinuses.  Usually the underlying cause is unknown.   What causes podogermatitis? Sometimes the cause can be identified, but many times there is no known cause.  Here are some list of causes: Most cases are idiopathic meaning unknown Foreign object penetrates into the skin like grass, splinters of wood, thorns Foreign material collected against the skin like gravel, sand, tar, walking in freshly laid grass, chemicals Trauma like cuts,...