News — bacterial infection
The following are congenital diseases that cause immunodeficiency : Canine Leucocyte Adhesion Deficiency / Canine Granulocytopathy SyndromeCanine granulocytopathy syndrome (now called canine leucocyte adehesion deficiency) has been reported to be an inherited autosomal recessive trait in Irish Setters and the condition has been reviewed recently in a report (Trowald-Wigh G. et al Journal of Small Animal Practice (2000) Vol41 p211-217). With this disorder neutrophils have impaired phagocytosis and have impaired ability to kill bacteria due to lack of adhesion proteins (integrins CD11b/CD18, b2-integrins). Deficiency of these proteins prevents leucocytes from leaving blood vessels - so poor numbers are found in tissues...
---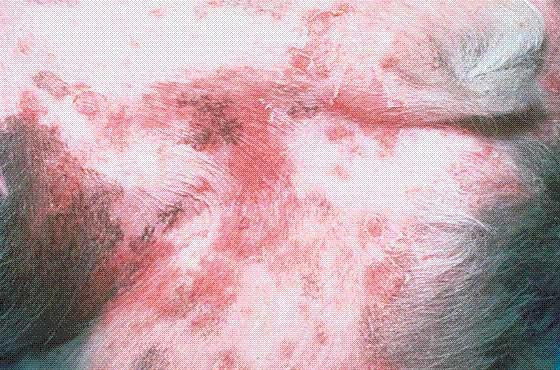 What are some of the causes of Dry or Flaky Skin on Dogs? Sometimes it is as simple as just dry skin on your dog, but other times the causes can be quite serious.  There are many different causes of dry skin.  It's a long list and can be difficult to diagnose.  Here is a list of different causes for dry skin: Black Hair Follicular Dysplasia/Alopecia/Dystrophy This is a rare hereditary disease in dogs with different hair colors.  It's more common in Bearded Collies, Basset Hounds, Salukis, Beagles, Dachshunds, and Pointers.  The Symptoms are loss of dark or black hair...